Beaded chainmaille jewelry tutorials are less common than standard chainmaille jewelry patterns, and I thought it was time that I did a video showing some patterns with beads.  This is a project video, where we'll make a bracelet.  I also will show some other design options.
Oh, and why do I say "Video 1"?  Naturally, I plan for more beaded chainmaille jewelry patterns!
Why Beaded Chainmaille?
Now I have a lot of different chainmaille bracelets — right now I'm wearing a roundmaille, a Turkish roundmaille and a Jens Pind.  But up to this point I hadn't done anything with beads, except as a dangle off an earring.  Beaded chainmaille is a change of pace — and I am looking forward to making a bracelet incorporating sterling and pearls.
Supplies You'll Need
All of the ring gauges list below are AWG.  When I say 18 gauge, I mean a 1mm wire diameter.
18 gauge 6mm inside diameter rings (AR = 6)
6mm bicone beads — I am using Swarovski, in the color Scarlet.
18 gauge 3.5mm or 4mm inside diameter (AR = 3.5 or 4)
Clasp of your choice
You will need approximately 3 beads and 12 of the 6mm ID jump rings per inch of finished chain.  As for the small jump rings, you will only need two or so, depending on what kind of clasp you plan to use.  (In my case, I elected to make an "S" clasp that used one of the Swarovski bicones.)
If you want to make the green and gold bracelet, you'll need more of the smaller jump rings and fewer of the large jump rings and bicone beads.  And if you want to add a dangle or charm, you'll need to include those.
Beaded Chainmaille Video Tutorial
Ready…set…let's get maille-ing with this beaded chainmaille bracelet!
The Rhinos Snorting Drano tutorial was a lot of fun to put together.  First of all, I've always been intrigued by the name of the weave.  I don't know where it came from, but you have to admit, it's unusual!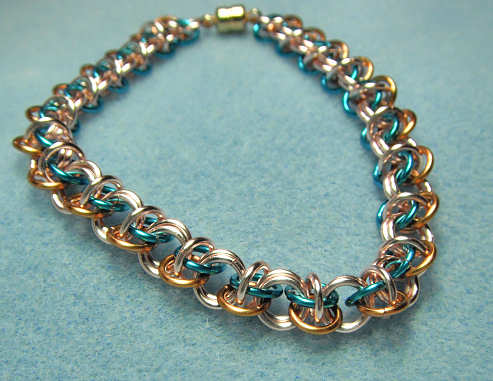 This is one of the orbital patterns of chain maille.  An orbital ring is one that does not pass through any other ring; instead it passes around them.  (Another example of an orbital weave is Celtic Visions.)
So how do the rings stay in place without going through another ring?  In a sense, these are captured rings — in other words, other rings hold them in place.
Typically, orbital chainmaille jewelry patterns are indeed chains as opposed to sheets (although almost any chain can be made into a sheet).  And Rhinos Snorting Drano of course falls into that category.
But Rhinos Snorting Drano isn't just one weave; with a few tweaks, you can have different looks.
The Barrel pattern is one variation, which when done in a tighter weave is quite a tailored look.
A weave that I came up with myself is one called Rhinos Shaken Not Stirred.  Depending on your color choices and what ring sizes you choose, it can be anywhere from tailored to funky to elegant.  I do want to add that while I've checked around a fair amount and haven't seen this pattern published anywhere else, it's always possible that someone else has also hit upon this weave.  In the meanwhile, I'll call it my own variation.  🙂
What You Will Learn
Just what will you learn in this tutorial?  Here is a sampling of what is in store for you.
 Rhinos Snorting Drano – This is the base weave for the chainmaille jewelry patterns, from which the other weaves are derived.
Barrel – This is the first variation of the RSN weave; in it, you will also learn an alternate way to make the RSN pattern.
Rhinos Shaken Not Stirred – This is my own variation that I developed when I thought, "I wonder what would happen if I…".  It's a lot of fun to put together, and gives the base RSN a new look.  (I also show you a variation of Rhinos Shaken Not Stirred, so you actually get an additional pattern.)
Plus all the standard information like jump ring size, appropriate ARs, supplies and even an appendix with a refresher on a basic technique.  For the Rhinos Shaken Not Stirred, I also show you examples made in other ring sizes, gauges and colors so you can get an idea of what you can do with it.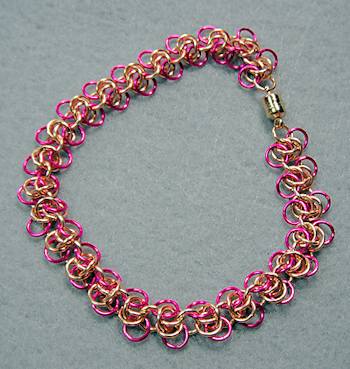 Get  Your Copy of the Chainmaille Tutorial
The tutorial is in the form of an ebook (.pdf file).  It has 20 pages and 35 photos.  You get a lot of very close-up photos so you see exactly where each ring goes, as well as written instructions.
All you need to do is click the "Add to Cart" button. The tutorial is in ebook form — it is not a printed book. Because of the nature of the tutorial, I don't provide refunds, but I do my very best to over-deliver for you.
The tutorial is immediately available as a digital download. This means that whatever time of day or night, you can download a copy — no waiting!
So get your Chain Mail Tutorial for the Rhinos Snorting Drano weaves for just $5 and you can be learning in just a few minutes.  Enjoy!!!!!