Tutorial – Chain Maille Ornament Covers 1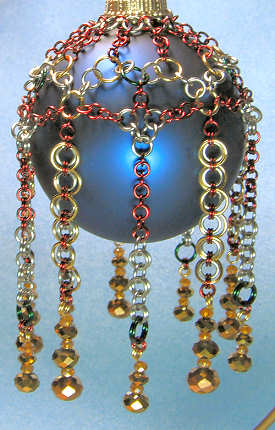 Here's a tutorial for chain maille ornament covers.  It's a little different than your standard beaded ornament cover, and something you definitely don't see every day!  Jump rings rule the day, although there are also beaded dangles for a little extra "bling".   They are perfect for your own tree or ornament stand, or a wonderfully unique gift to give to others.
Jump Ring Ornament Covers
While you may need quite a few jump rings for these covers, you don't need a whole lot of sizes/gauges.  If you don't have the sizes and colors listed, with a little experimentation you can use the directions as a guideline for what you do have on hand.
If you've got as couple pair of flat nose pliers, a round nose plier and a pair of wire cutters, you have everything you need as far as tools.
Just add jump rings!
What You Will Learn
Here's what you will learn in this tutorial for making Christmas ornament covers.
The pattern and instructions for linking the rings to form a netting (easier than you probably think).
How to create the two different types of straight chains.
How to make beaded dangles.
Instructions for simple loops and wrapped  loops.
Ideas for making your own variations!
It's really a lot of fun, and it's something  that you will treasure for years and years to come.
How to Get the Tutorial
It's very simple.  All you need to do is click the "Add to Cart" button below.  (How's that for easy?)  🙂
At that point (through the magic of the internet), you'll be whisked to your checkout of $6 for this ebook tutorial.
Then you'll get download instructions for the tutorial.  Keep in mind that this isn't a paper copy that gets delivered by snail-mail, but a PDF file that you get your hands on(so to speak) instantly.
Go ahead and order, then get ready to make your own chain maille Christmas ornaments.  They will be sure t bring ooooooohs and ahhhhhhhs from everyone who sees them!