Shaggy Loops Chain Maille Video Tutorial
This Shaggy Loops chain maille video tutorial is for a pair of earrings in this fun chainmaille jewelry pattern.  It's simple but fun, and it can be dressed up or down in so many ways.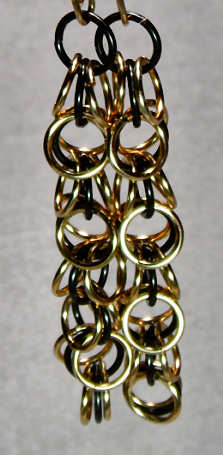 This particular weave is best used in earrings.  Not that you can't use it to make bracelets or necklaces, but the pattern shows itself best when hanging vertically.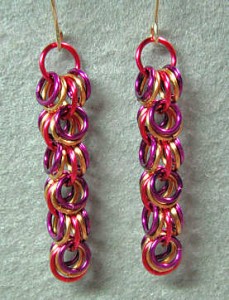 This video tutorial is for the basic pattern, which is the gold and black version.  I also show two additional variations and talk about how I made them.
The Weave Overview
The base of this chain maille jewelry pattern is a simple one-in-one (sometimes called 2-in-2) chain.  It's as basic as you can get — putting one through through another.
The "shag" is the extra loops you place on the base chain.  These loops only go through one jump ring.
The base pattern uses the same size jump rings for everything — chain and loops.  I show the earrings done in 18 gauge rings with a 6mm inside diameter (ID).  In actuality, you can pretty much use any gauge, any ID you'd like.  So if you don't have the 18 gauge 6mm IDs laying around, feel free to use whatever rings you have on hand.  It's that forgiving a weave.  🙂
Supplies for the Shaggy Loops Video Tutorial
The supplies for the base pattern (the black and gold photo) are as follows.
18 black jump rings, 18 gauge with a 6mm ID
32 gold jump rings, 18 gauge with a 6mm ID
Pair of earring findings
Two pairs of pliers.
That's it.  As an FYI, you'll notice that my pliers have a white coating on their tips — it's the Tool Magic dip.  It's totally optional; I just like using it because it gives me a better grip on the jump rings, and prevents them from marring.  (For more info, see the post on chain maille pliers.)
If you want the supply info on the two variations I show, the list for these is below the video.  So start by watching the video and then take a look at the supplies for the others if you like.
Supplies for the Shaggy Loops Variations
If you enjoyed learning how to make the basic pattern, maybe you'd like to try one or both of the variations.  Here is the info on the jump rings and beads.  (It's a given that you will need earring findings and pliers.)
Magenta Earrings:
14 magenta jump rings, 18 gauge 6mm ID
24 bronze jump rings, 18 gauge 5mm ID
24 amethyst jump rings, 18 gauge 4.5mm ID
Beaded Earrings:
50 silver jump rings, 18 gauge 6mm ID
96 iris seed beads, size 8