Tutorial – Celtic Weaves for Chain Maille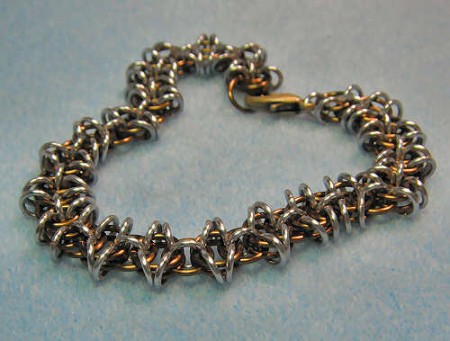 Celtic Weaves is another one tutorial of my series of  tutorials for chain maille. There isn't a real "family" per se, but these are all weaves based on the Helm chain…and its most famous pattern called Celtic Visions.
Something interesting about this pattern is that the origins are indeed thought to be from Europe, yet the structure is more like Japanese weaves.  To add even more intrigue is the fact that these weaves use captive and orbital techniques.  All that in a single weave!
The the undoubted star of these weaves is Celtic Visions.  However, you'll start out easy with the Half Helm. From there you'll move to the traditional Helm (a.k.a. Parallel), and then onto Celtic Visions.
Then you'll see how to make the fun pattern called Celtic Kisses! These patterns build on each other, so I encourage you to at least read through Half Helm and Helm before you try Celtic Visions.
However…the Half Helm and Helm are undeniably wonderful in their own right.  So you'll have  the chance to play around a lot!
What You Will Learn?
Quite naturally, you will learn all the weaves:
Half Helm— I don't quite know if this is a new pattern I came up with, but in playing with Helm, I came up with this super-easy intro to the Celtic weaves.  Sometimes I come up with neat ideas just trying a different ways to work a standard weave…and this is one of them!
Helm — This is the basis for the other two weaves in the tutorial. It can be dressed up or down, making it quite versatile.
Celtic Visions — An amazing chain maille pattern that looks exotic but is easy to learn.
Celtic Kisses — This is another of my,"I wonder what would happen if I tried…" weaves.
Of course you'll learn not only how to make these weaves, but also how to incorporate them into jewelry.  While I show bracelets, you can also make these into necklaces and even belts if you so desire.  🙂
Here's a quick intro to the tutorial, and then below the video is more information for you.
I almost forgot — while I do the demos in 18 gauge rings, I give you the sizes you need if you want to make your chain in a different gauge. And I also provide approximate ring counts for you.  (Do keep in mind  that these are estimates, and it's always wise to have a few extra on hand in case some drop on the floor and you never see them again…)
There are loads of photos, with up-close shots so you know exactly where you need to put that next jump ring. Especially useful when it comes to the captive/orbital rings!
Getting Your Copy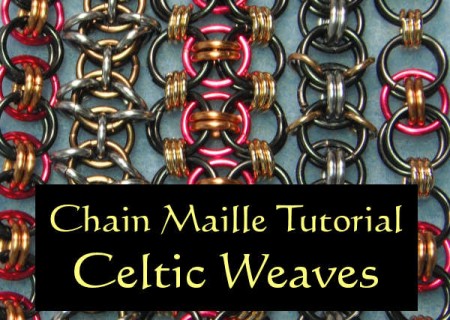 To get your own copy of this ebook in my chain maille tutorial series, all you need to do is click the "Add to Cart" button. The tutorial is in ebook form — it is not a printed book. Because of the nature of the tutorial, I don't provide refunds, but I do my very best to over-deliver for you.
The tutorial is immediately available as a digital download. This means that whatever time of day or night, you can download a copy — no waiting!
So get your Chain Mail Tutorial for the Celtic Weaves for just $5 and you can be learning in just a few minutes.
Ready…set…maille!