Chain Maille Tutorial – Byzantine and Box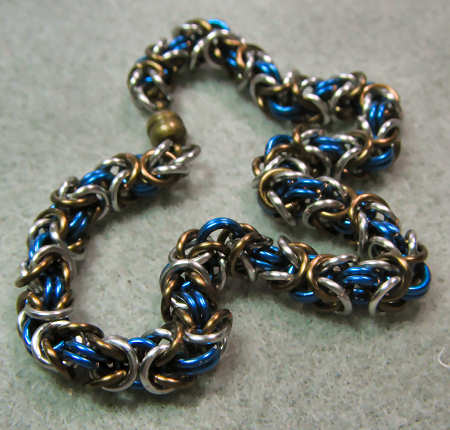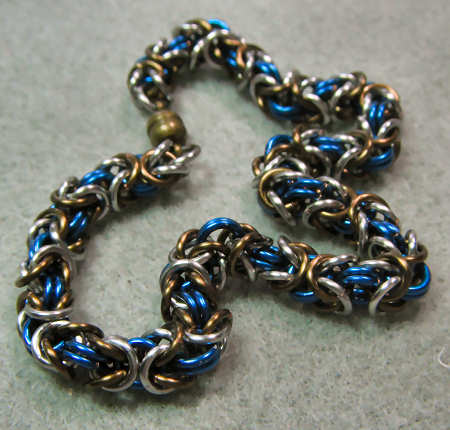 The Byzantine chain maille pattern is the perfect entry into the fascinating world of chain maille jewelry. Known as Etruscan, Birdcage, Birdnest and (my favorite) Idiot's Delight, Byzantine is a weave of many names.  It looks complex, but you'd be surprised at how easy it is to make into beautiful jewelry!
The Box weave's other name is called Queen's Link or Queen's Maille. It's a denser weave than its close relative Byzantine, which means it a thicker and more substantial weave.  But it also feels absolutely wonderful against your skin!
Both of these weaves are quite versatile, which is another reason to love them.  Earrings, necklaces, bracelets — all are great.  And they are wonderful styles for both men and women.
Ready to learn more?
What You Will Learn
This tutorial is 20 pages long and has loads of information, including:
Weave Patterns — Step-by-step photos (lots of them!) showing you how to make the Byzantine and Box patterns.
Bonus Pattern — You'll also learn something called Byzantine Cross.
Jump Rings — the materials available and what you need to know before you buy any!
Tools Needed — Surprise! There aren't many needed in order to work chain maille. 🙂
Jewelry — How to make your new chain into bracelets and earrings.
You'll also see a few other ideas for how to use these weaves in jewelry.
How to Get a Copy
The tutorial for making the Byzantine and Box patterns is in ebook form — it is not a printed book. It's a digital download, which means you get it immediately after you purchase it. Day, night — it doesn't matter. It's all at your fingertips.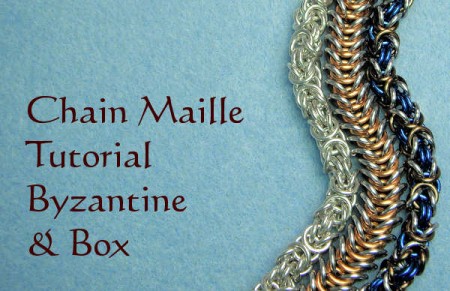 Because of the nature of this tutorial, I don't offer refunds. But like I said previously, I do my best to make sure you get more than your money's worth.
So get your Chain Mail Tutorial for Byzantine and Box Weaves for just $5 and you can be reading (and learning) all about it in just a few minutes.
Ready…set…maille!